The Burda MORE International Trainee Programme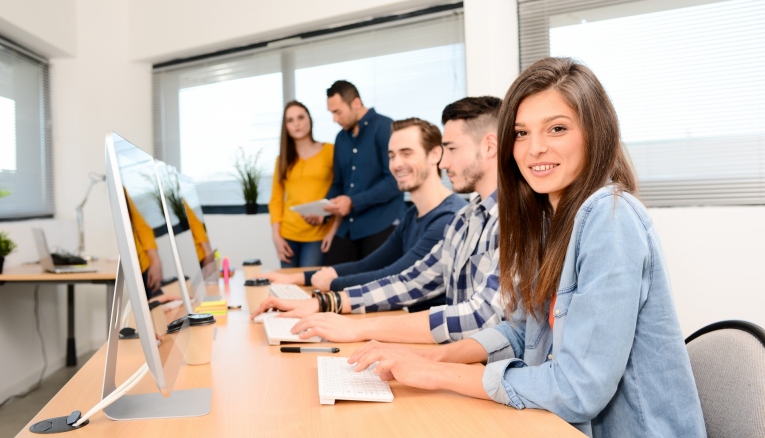 Kick-start your career with the Burda MORE International Trainee Programme and excel in
M
anaging
O
pportunities,
R
esponsibilities, and
E
xcellence. We support talented graduates on their journey to become leaders in the fascinating media and technology sectors. Build a worldwide network of peers while working on core strategy initiatives in four international markets.  
Our Company
Burda International CZ belongs to the Burda International publishing group and has been operating on the Czech market since 1991. Burda currently publishes over 36 magazines (such as ELLE, Marianne, Apetit, Marianne Bydlení, Svět ženy and others) and over 80 special issues, provides a range of digital products and employs over 250 staff. 
We belong to Hubert Burda Media, headquartered in Offenburg and Munich, Germany, one of the largest media enterprises in Europe. The BurdaInternational network covers 16 countries on three continents, and serves over 200 million consumers around the globe. We excite our customers with magazines, online platforms, apps, podcasts and events hosted by our market-leading brands. We are constantly on the lookout for new business opportunities - this is why we are investing in new talent through the Burda MORE International Trainee Programme.  
The Burda MORE International Trainee Programme
MORE is an 18-month trainee programme with three international rotations. In addition to challenging projects, seminars and coaching, you will take part in prestigious events to grow your network across the Burda group. Throughout the entire programme you will partner with a mentor from senior management to promote your personal and professional development. 
You will experience three multi-month placements abroad at our various companies in the United Kingdom, Thailand, Poland, Czech Republic or France. In addition, you will have one stint at the BurdaInternational HQ in Munich, Germany. You will drive core strategic initiatives in the fields of Digital Transaction & Advertising, Finance & Accounting, and Technology. The rotations and projects will be tailored towards your interests and needs, in close coordination with your mentor and your HR partner.
New coleague will join us from 1.8.2023 and first placement abroad will start from 1.10.2023.
As a MORE trainee, you will…
•  foster cross-cultural relationships. 
•  be paired with a mentor on executive level who supports you in your personal and professional development. 
•  personally experience different companies and business models, different working cultures and lifestyles. 
•  perform on challenging strategic projects and tight deadlines. 
•  develop an entrepreneurial spirit and leadership skills. 
•  personally grow through several seminars, coaching and Burda events. 
•  receive a competitive compensation package.  
We are looking for exceptional individuals who...
•  are ready to tackle new challenges and burn with curiosity.
•  are self-starters and straight-shooters. 
•  excel in uncharted territory. 
•  have a master's degree in any field or a bachelor's degree plus work experience in a commercial environment. 
•  are fluent in English and Czech.  
Apply now!
To apply, all we need is…
... your CV
... your relevant certificates, such as your most recent university transcripts
... a short cover letter telling us why you are made for MORE and your answer to the following question: What do you think the publishing market will look like in 10 years? Convince us with your personality, experiences, and innovative ideas! 
Since you are applying for an international programme, remember to submit your application in English. 
If we like your application, we look forward to getting to know you even better:
          1. First of all, we are excited to meet you in person in a (Skype) interview.
          2. Once you have convinced us, you can demonstrate your numerical, verbal and logical skills in an online
          assessment. 
          3. Finally, we will invite you to an assessment center which will give you the opportunity to convince us
          and become a MORE trainee.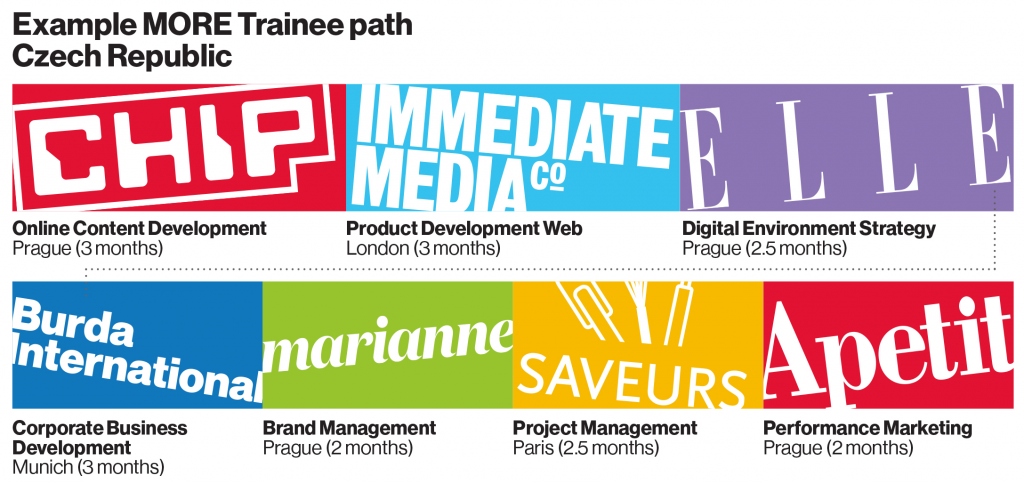 MORE trainee at Burda
Take a look

Any MORE questions?
For more information on how we can help kick-start your career, please email us at
kveta.nova

[at]

burda.cz

(subject: The%20Burda%20MORE%20International%20Trainee%20Programme)
.
Květa Novátová
kveta.nova

[at]

burda.cz